Enjoy a moment of relax in our HOTEL-RESTAURANT LES NEGOCIANTS.
We are located in Valence, close to Bourg-lès-Valence and Guilherand-Granges.
Languages spoken: English, Italian, Spanish, Russian and German.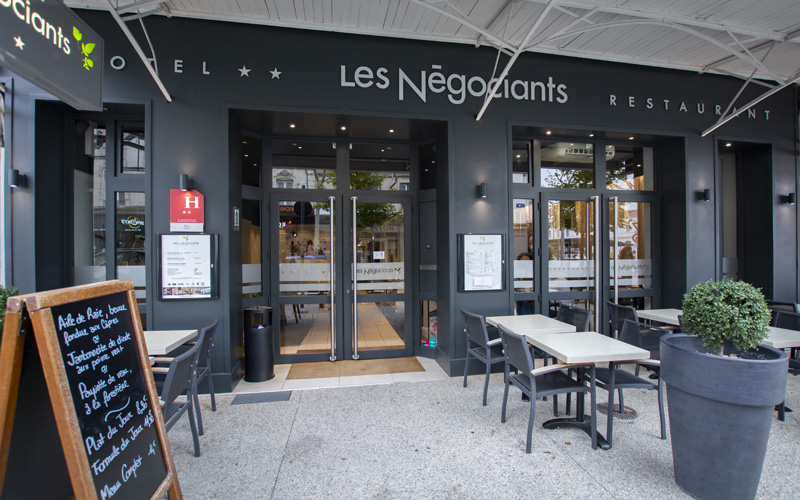 Rooms according to your needs
Alone or as a group, make sure you spend a pleasant stay in hour hotel and its comfortable rooms. The advantage of LES NEGOCIANTS is that you will have a wide choice of rooms that you can choose from.We suggest you try our economic room, our standard room, our superior room or triple room. We will place you according to the purpose of your trip, the number of people as well as to your needs. This way, if you are travelling with a group, our family room is ideally suited for you.You can also enjoy a meal in our restaurant or even enjoy our room service that will bring you your meal directly to your room.
We will be happy to warmly welcome you.
A service intended to meet your expectations
The friendly staff of the HOTEL-RESTAURANT LES NEGOCIANTS welcomes you in a warm atmosphere. Since you surely came a long way, we provide you with a closed garage for your vehicle. Our underground parking lot is also available. And, good to know: our hotel also accepts pets.Our prices vary depending on the type of room as well as on the services that you wish to use. Please note that all our rooms are fully equipped. Also, our cancellation conditions are free of charge if you notify us within 24 hours after booking.
We will be happy to warmly welcome you.
In our hotel, you can benefit from:
Our restaurant, open Monday to Friday
Our hotel, open 24/7 all year round
A relaxing atmosphere
Just ask our customer advisor to discover our offers!
We do not have PRM rooms in our Hotel