For a successful holiday, just choose our HOTEL AND RESTAURANT LES NEGOCIANTS.
We're waiting for you in our charming hotel located in Valence, whether you are in Bourg-lès-Valence or Guilherand-Granges.
Languages spoken: English, Italian, Spanish, Russian and German.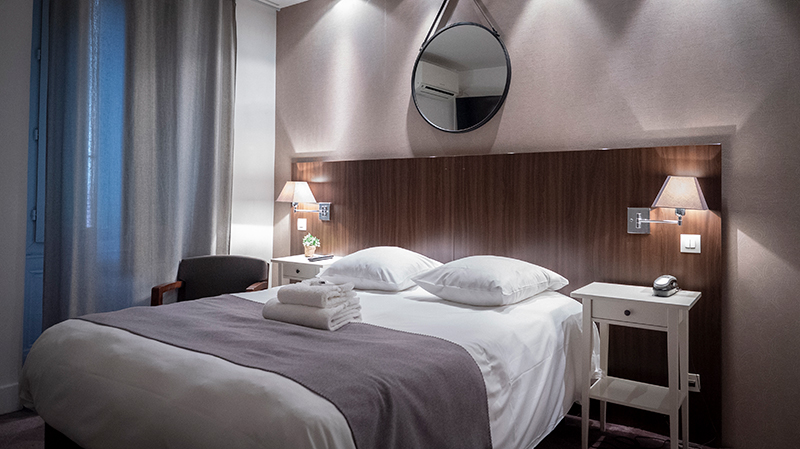 A relaxing atmosphere
Enjoy the relaxing atmosphere and the beautiful landscape of our HOTEL LES NEGOCIANTS. We guarantee you a pleasant stay in our charming hotel. 22 of our rooms look out onto the courtyard. You will spend relaxing nights thanks to our comfortable beds. Our gourmet cuisine also prepares you unique and delicious dishes. Our chef prepares every single dish respecting the rules of hygiene and the quality of the products he uses.
Enjoy your meal on our terrace for a moment of true relax.
We suggest you try our specialties as well as the recipes that made our restaurant so popular.
For enjoying our food, we suggest you try our outdoor terrace.
A charming decor
The 36 rooms available at the HOTEL AND RESTAURANT LES NEGOCIANTS present a chic touch that you will certainly love. We have chosen harmonious tones that will enhance the originality and the style of our charming hotel.For your conferences, your business trips, your group trips, or even just for some time with your loved ones… a pleasant atmosphere is waiting for you.Our staff will surely satisfy your needs, since we speak several languages: French, Russian, German, Spanish and English.Your wellbeing is our priority. You just need to book your room!
Your wellbeing is our priority.
Book now at the HOTEL AND RESTAURANT LES NEGOCIANTS for:
Your holiday
Your business trips
For more information, do not hesitate to send us your questions!
We do not have PRM rooms in our Hotel